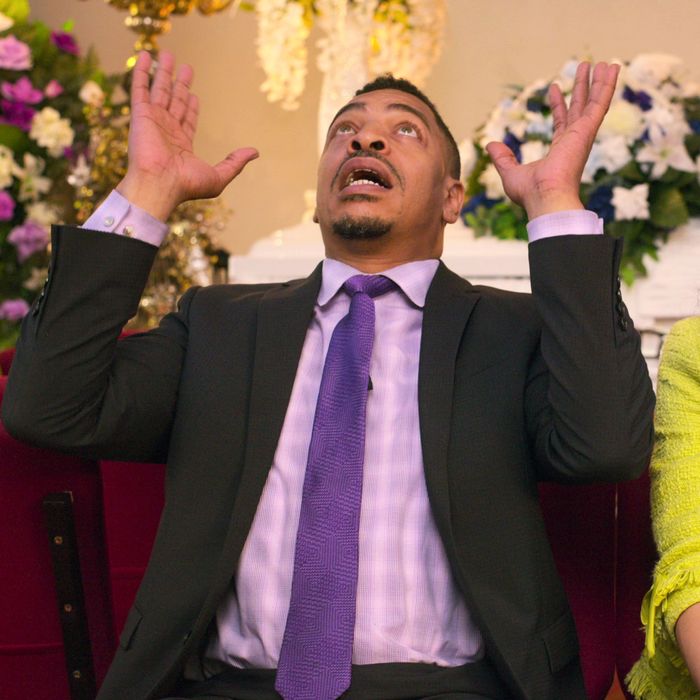 Buried by the Bernards.
Photo: Netflix
Just when you think you've seen every type of reality show possible, something like Buried by the Bernards comes around. Netflix latest reality series follows R Bernard Funeral Services as the family-owned business helps the community with affordable services (nice!). Though along with the macabre, the Bernards provide a humorous balance to the life they live. "Last time you had me in a cemetery, my heels got all muddy because it was raining," is an incredible line to open a trailer with, for starters. The offbeat but sincere antics of Buried by the Bernards just seem like a fun offset to the offbeat reality we're living in now.
The Bank Job
Beverly Hills Ninja
Eat Pray Love
Inception
Love Daily: Season 1
My Best Friend's Wedding
My Dead Ex: Season 1
National Lampoon's Christmas Vacation
The Patriot
Rocks
Shutter Island
The Unsetting: Season 1
Zac and Mia: Seasons 1-2
Zathura
Kid Cosmic – Netflix Family
Mighty Express: Season 2 – Netflix Family
Tiffany Haddish Presents: They Ready: Season 2 – Netflix Comedy Series
All My Friends Are Dead – Netflix Film
Black Beach – Netflix Film
Firefly Lane – Netflix Original
Hache: Season 2 – Netflix Original
Invisible City – Netflix Original
The Last Paradiso – Netflix Film
Little Big Women – Netflix Film
Malcolm & Marie – Netflix Film
Space Sweepers – Netflix Film
Strip Down, Rise Up – Netflix Documentary
The Yin-Yang Master: Dream of Eternity – Netflix Film
The Sinner: Jamie
iCarly: Seasons 1-2
War Dogs (2016)
Crime Scene: The Vanishing at Cecil Hotel – Netflix Documentary
The Misadventures of Hedi and Cokeman – Netflix Film
Capitani – Netflix Original
Layla Majnun – Netflix Film
Middle of Nowhere
Red Dot – Netflix Film
Squared Love – Netflix Film
Buried by the Bernards – Netflix Original
Nadiya Bakes – Netflix Original
Hate by Dani Rovira – Netflix Comedy Special
To All The Boys: Always And Forever – Netflix Film
Xico's Journey – Netflix Family
Monsoon
The Crew – Netflix Original
Animals on the Loose: A You vs. Wild Movie – Netflix Family
Good Girls: Season 3
Behind Her Eyes – Netflix Original
Hello, Me! – Netflix Original
MeatEater: Season 9 Part 2 – Netflix Original
Thus Spoke Kishibe Rohan – Netflix Anime
I Care A Lot – Netflix Film
Tribes of Europa – Netflix Original
Classmates Minus – Netflix Film
The Conjuring
The Conjuring 2
Brian Regan: On The Rocks – Netflix Comedy Special
Pelé – Netflix Documentary
Canine Intervention – Netflix Original
Ginny & Georgia – Netflix Original
Two Sentence Horror Stories: Season 2
Geez & Ann – Netflix Film
High-Rise Invasion – Netflix Anime
Bigfoot Family – Netflix Family
Captain Fantastic
Caught by a Wave – Netflix Film
Crazy About Her – Netflix Film
No Escape
Our Idiot Brother
For more coverage of the best movies and TV shows available on Netflix, HBO, Amazon Prime, Hulu, and Showtime, check out Vulture's What to Stream Now hub, which is updated throughout the month.